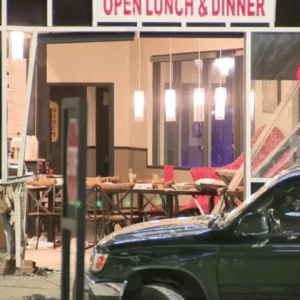 Dallas, TX – February 10, 2023 Trial Lawyer Omar Chawdhary Firm Partner at Kherkher Garcia, LLP filed to represent three clients who were victims of the intoxication assault incident where a drunk driver crashed into Speranza Italian Restaurant.
Five people were hospitalized, one person was left in critical condition with a head injury, and many others were treated for minor injuries after a drunk driver slammed into Speranza Italian Restaurant Thursday, January 26th, 2023.
At approximately 8:30pm, the Dallas Fire-Rescue was dispatched to 18204 Preston Road to Speranza Italian Restaurant, where the accident occurred. The restaurant was filled with dinner-time patrons when the SUV plowed through the front windows throwing customers to the ground. The drunk driver then proceeded to reverse the SUV out of the restaurant quickly.
Authorities identified the driver as 64-year-old Jan Bennett. She was arrested, taken to the Dallas County jail, and charged with intoxication assault. This is not a first offense for Bennett, as she was convicted of DWI eight years ago in Denton County.
Photos of the restaurant show damage to the exterior wall, broken furniture and fixtures, and other debris inside. None of the structural supports were damaged. As of right now, Speranza Italian Restaurant is closed indefinitely. Our heart goes out to the restaurant patrons and employees who experienced this tragedy.
Nothing is more dangerous on the road than a drunk driver. In the Texas courts, driving while intoxicated rises to the level of negligence per se. This driver and her insurance company will be held accountable to provide justice and maximum compensation for the victims. Additionally, the Texas Dram Shop Act allows victims of drunk driving accidents and their family members to sue bars, restaurants, or other providers of alcohol who negligently over-serve drunk drivers who end up causing crashes. In this incident, it was discovered that this driver was over-served at an establishment prior to getting behind the wheel and causing these injuries. This will be an important element of this case for our clients. We are also examining previous incidents that occurred at Speranza Italian Restaurant that potentially indicate a failure to protect patrons with traffic control barriers.
If you or a loved one have been injured in a drunk driving accident, contact Kherkher Garcia, LLP today to defend your legal rights, hold the responsible parties accountable, and pursue maximum compensation for injuries suffered.  Don't wait; call us today for a free consultation.
  ###
About Kherkher Garcia, LLP
We are Injury Trial Lawyers.
We fight hard to protect your rights. If you suffered catastrophic injuries due to negligence, you can depend on us to go the distance.  We are relentless in seeking justice for our clients. Our dedication has continued to deliver record-setting victories for more than 30 years. We have won Billions of Dollars for our clients in more than 900 cases. You can feel confident knowing you are in experienced legal hands. Our Trial Lawyers will build a formidable case and pursue the maximum compensation you deserve. Our legal team dedicates the time, effort, and resources necessary to reach exceptional outcomes in every case. You are not alone during this traumatic experience. We are with you all the way.
Press Contact
Name: Omar Chawdhary – Firm Partner – Trial Lawyer
Phone: 713-333-1030