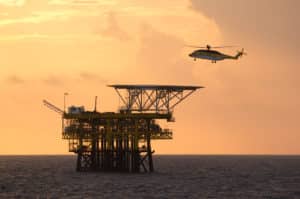 The U.S. Coast Guard has suspended its search for four passengers who were on board a downed helicopter that crashed off Southwest Pass, Louisiana, on Thursday afternoon. Those onboard were 3 offshore oil platform workers and the helicopter pilot. The oil platform is currently operated by Houston-based Walter Oil and Gas.
The search was suspended after an 8-hour effort, where the rescue crew searched approximately 180 square miles for the missing passengers. 
Coast Guard officials said the helicopter crashed about 10 miles offshore near Southwest Pass, Louisiana, — a channel roughly 80 miles southeast of New Orleans.
On Thursday morning at approximately 8:40 a.m., watchstanders from District Eight of the Coast Guard received a call from Rotorcraft Leasing Company personnel stating that one of their helicopters had gone down in the Gulf of Mexico while it was in the process of departing an oil platform. The crews immediately launched a MH-60 Jayhawk helicopter aircrew from Coast Guard Air Station New Orleans and a 45-foot Response Boat-Medium boat crew from Station Venice to assist in the search efforts. 
For eight hours, the crews searched 180 square miles for any signs of survivors or wreckage but were unsuccessful in their efforts and were forced to suspend their search at 6:15 p.m on Thursday evening due to darkness. 
The cause of this crash is still unknown and is currently being investigated by both Rotorcraft Leasing Company and the National Transportation Safety Board (NTSB). In order to get more information about what caused this accident, investigators will be looking into various factors such as weather conditions, maintenance history of both aircraft and crew records, as well as interviewing witnesses who may have seen something prior to or during the crash incident. 
Tragically, four people have been reported missing following this helicopter crash. Kherkher Garcia, LLP is ready to stand with the family of these offshore helicopter crash victims. 
Contact Kherkher Garcia today for help from experienced offshore injury trial lawyers if your family has been involved in this incident. Your family is not alone.
*Update*
The Coast Guard has recovered the 3 passengers and pilot along with the wreckage of the helicopter.
#UPDATE @USCG suspends its search for 4 missing from downed helicopter at approximately 6:15 p.m. The crew searched approximately 180 square miles for 8 hours.

More information here, https://t.co/zZJA8Es9RN. pic.twitter.com/OrydlmUiDh

— USCG Heartland (@USCGHeartland) December 30, 2022