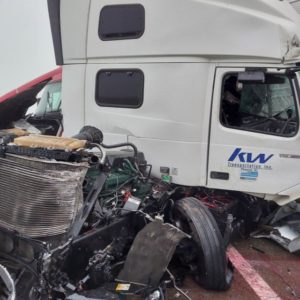 On January 31st, multiple law enforcement agencies responded to a multi-vehicle pileup crash at the Interstate 10/Interstate 20 split in Jeff Davis County. The crash included as many as 12 vehicles with multiple injuries reported. In response to this incident, the eastbound lane of Interstate 10 is closed and travel is discouraged due to icy roadways. This story will be updated with more information as it becomes available.
The agencies that responded to the crash included the Texas Department of Transportation (TxDOT), Reeves County Emergency Personnel, and Texas Highway Patrol Troopers. TxDOT is responsible for providing safe highways throughout the state of Texas through its maintenance and safety operations. They are also responsible for monitoring road conditions during hazardous weather events like ice or sleet which can cause dangerous driving conditions.
Reeves County Emergency Personnel are trained first responders called upon by local law enforcement agencies in serious incidents such as car accidents or fires. They provide medical assistance on location and transport victims to nearby hospitals when necessary.
Texas Highway Patrol (THP) Troopers are sworn peace officers who patrol highway systems across the state of Texas. These troopers have specialized training in accident investigations which helps them determine the cause of crashes like this one on I-10/I-20 split in Jeff Davis County. They also work with local law enforcement to ensure that roads remain safe during hazardous events like icy roads or storms.
This pileup crash on I-10/I-20 split in Jeff Davis County has resulted in numerous injuries and closed down an eastbound lane of traffic for now.
If you or someone you know is a victim of this West Texas I-10 collision, don't wait to seek out legal help. Contact Kherkher Garcia today for a free consultation and let our team of experienced lawyers fight for you and your rights. We can help with Serious Auto Wreck Injury and Wrongful Death claims. We will work hard to get you the compensation that you deserve after this terrible incident on the roadway.